Finding the appropriate partner to carry out your project or build your product can be a complex task, especially with the multitude of companies in the market. However, we can simplify this process for you in just three easy steps.
Selecting the proper software house is paramount to the success of your project. Partnering with an unreliable partner can lead to delays, increased costs, and ultimately result in software that fails to meet your expectations.
Software development models vary, and you can choose from alternative solutions:
Building an international team of full-time employees.
Developing products with freelancers or utilizing body leasing services.
Employing a dedicated team.
Hiring a software house.
Each of the methods mentioned above has its advantages and disadvantages. Opting for software development by an external company can be a more secure solution, especially in situations where your organization wants to avoid wasting resources on a complicated and expensive team-building process.
Key questions to consider before choosing a software house:
Does my organization have specific software requirements? If so, what are they?
What are our true needs? Do we require a dedicated team, support from individual specialists, or complete outsourcing?
Have we clearly defined our goals, timeline, and budget?
Seemingly insignificant questions can play a crucial role in precisely defining your needs. A well-executed conceptual approach minimizes the chances of errors and delays. Additionally, software houses provide valuable support throughout the concept-building process, assisting with technology selection, determining what can realistically be achieved within your budget, and identifying potential risks.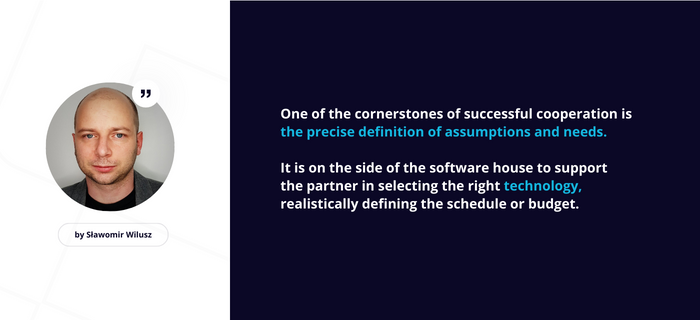 #1 Evaluate experience and expertise
By expertise and experience, we mean:
Experience working with clients in the specific industry.
Expertise working with the specific technology.
When developing a tool related to healthcare, it is advisable to collaborate with an organization that has prior experience in that specific industry. Conversely, if your organization requires Node specialists due to technological requirements, it would be most efficient to seek a software house that already has such specialists on their teams.
Organization's experience
Moreover, pay close attention to the company's experience, which doesn't necessarily have to be tied to the date of establishment. Sometimes organizations are founded by individuals who already have a wealth of projects under their belt.
What should interest you the most is their experience in successfully delivering projects, building products, and working with organizations similar to yours. You can verify this on platforms like Clutch, read testimonials and case studies, and although it may take some time, ask for feedback from previous partners of the company (for example, by searching for them on LinkedIn).
Size
It is preferable to be a larger partner for a smaller organization rather than the other way around. The principle of selecting partners based on the size of your company also applies when choosing a software house. Smaller companies may encounter issues with experienced staff and project timelines, while in larger corporations, your project may become lost in a corporate email whirlwind.
The ideal solution is when the software house views you and your organization as an equal partner. Take note of whether the CEO or management personnel are present during discussions before signing the contract. Do not hesitate to inquire about their involvement in the software development process.
Portfolio
Make sure to test the previous products built by the software house you are interested in. For instance, on Fingoweb's website, you can click on the Portfolio tab to discover Sellizer, a sales support application developed by us. Even if you're not involved in sales, you can sign up for a 14-day free trial and explore the user interface.
✋ Be cautious of:
Companies that claim they can do everything with any technology.
Companies that compensate lacking experience with low prices.
✅ To ensure you make an informed decision:
During meetings or when receiving proposals, ask for examples of solutions created using the technology that interests you.
Read testimonials or reach out to previous partners of the organization and inquire about their satisfaction with the collaboration.
#2 Evaluate the method of collaboration
Another crucial aspect to consider before hiring a software house is their approach to collaboration.
There are two widely used methods:
Time & Material.
Fixed Price.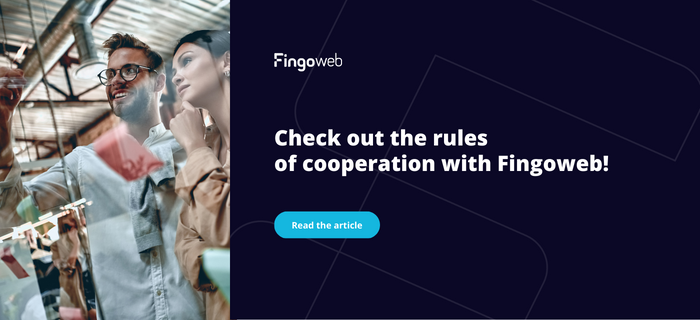 Time & Material
In this type of settlement, you pay for the specialists' time spent working on the project after signing the contract. The advantage of this solution is that it promotes iterative work and offers great flexibility.
Key advantages:
Lower total cost of software development.
Practically unlimited ability to change the scope of work at any time.
Ability to choose employees assigned to the project.
Your own IT team without recruitment and training issues.
Support from the entire team when involving only one programmer.
Payments regulated on an ongoing basis in a monthly cycle.
No tedious and time-consuming project acceptance procedures.
Fixed Price
Another option is to select a fixed price determined at the beginning. This traditional approach works well for less complex solutions. The advantage is the ability to accurately plan costs – "planning" being the key word in Fixed Price. However, there is less flexibility and any additional changes may incur additional costs depending on the agreement.
Advantages of Fixed Price:
Fixed, pre-determined price for the service.
12-month warranty for fixing discovered errors at no additional cost.
Pre-established payment schedule.
Detailed description of the whole project before starting work.
In most cases, a flexible Time & Material approach will be the best solution for IT projects.
✋ Be careful with:
Companies that do not define the scope of work at the outset and promise satisfaction.
✅ How to do it?
Discuss collaboration methods with the software house and check if their proposed solution fits your project.
#3 Inquire about support
Support from the software house should begin even before signing the contract. A reliable partner is one who will assist you in making decisions on how to deliver the product efficiently, determine the appropriate technology to use, and identify potential pitfalls.
Before finalizing the agreement, it is important to ask the following questions:
Will my organization have ownership of the code?
How do you ensure data security?
Do you provide support for infrastructure and hosting solutions as well?
At what point does our collaboration end, and is this clearly defined in the contract? (Is it upon product delivery or after a specified period of time?)
The answers to these questions may vary depending on the cooperation model. In a traditional waterfall model, any changes to the project may incur additional costs, and the subcontractor will deliver subsequent stages of the software according to a pre-established schedule. In such cases, post-implementation support will also be explicitly outlined in the contract.
In an agile Time & Material agreement, the collaboration does not necessarily end with the software deployment. Some team members can be assigned to maintain the product in the future, and certain companies also offer infrastructure maintenance services.
Hosting and Infrastructure Maintenance
If you are planning to develop a cloud-based solution, it is advisable to consider a software house that can also provide ongoing maintenance after the deployment. The extensive knowledge gained during the product development process ensures that you won't waste time transferring information between the hosting company, your team, and the software house responsible for production and implementation.
UI/UX
A reputable software house employs UX/UI specialists and graphic designers who will work closely with you to enhance your visual communication and share their expertise.
✋ Be cautious of:
Companies that do not transfer ownership rights to the source code or fail to define this in their contracts.
✅ How to proceed:
Ask about everything, even seemingly minor details. Inquire about post-project support and seek advice regarding hosting solutions.
Be sure to remember
When selecting a software house, prioritize their experience and track record. It is best to choose an organization that understands the specific requirements of your industry.
Additional points to consider:
First impressions matter. Even though it may sound trivial, you will be collaborating with a particular company for several months. The initial impression, their approach, and the overall atmosphere during meetings serve as good indicators of whether they are the right fit.
Communication methods. Document the preferred communication platform, such as Slack or Skype, and establish the frequency of communication in the contract.
Legal safeguards. If you reach the stage of signing a contract, thoroughly review it to ensure adequate legal protection and alignment with the discussions held during meetings.
Above all, remember to ask questions and schedule meetings. Even a brief 15-minute online meeting can provide valuable insights into a potential partner, far surpassing what can be gleaned from simply browsing their website. Since we're on the topic of meetings and inquiries: